The three-point structure has been introduced to protect drivers from flying debris and bouncing wheels.
Getting in and out of the car will take longer and be trickier, with drivers having to take care of the aerodynamic additions.
ENGINE REGULATIONS AND GRID PENALTIES
Drivers are now limited to three power units per season, rather than four, before incurring penalties.
Even more challenging, they are limited to only two MGU-K units (Motor Generator Unit-Kinetic) and two energy stores.
Any additional elements incur grid penalties, which have been changed to avoid the farcical situations of the past where drivers incurred drops far in excess of the number of places available.
Now, any driver who is handed a penalty of 15 places or more will start from the back.
TYRES
Pirelli has added hyper-softs and super-hards to its "rainbow" range of seven compounds, with the sidewalls colour-coded as ever for easy recognition.
The tyres are generally softer with the current hard tyre (light blue) roughly equivalent to last year's medium.
The super-hard is unlikely ever to be used, an option included only as an "insurance policy" if it turns out that the tyre maker has got its sums wrong.
The general target is for a two-stop strategy.
NEW RACES
France returns for the first time since 2008, with Le Castellet's Circuit Paul Ricard back on the calendar for the first time since 1990.
Germany's Hockenheim circuit is back after being left off last season's schedule but the current deal expires after this year's race.
With Malaysia gone, there are now 21 races – equalling the sport's record number.
NEW FACES
Formula Two's Monegasque champion Charles Leclerc and Russian Sergey Sirotkin will be making their F1 race debuts in Australia at Sauber and Williams respectively.
New Zealander Brendon Hartley and his French teammate Pierre Gasly are starting their first full seasons at Toro Rosso.
Honda are starting a new partnership with Red Bull-owned Toro Rosso, former partners McLaren have a Renault-powered car for the first time.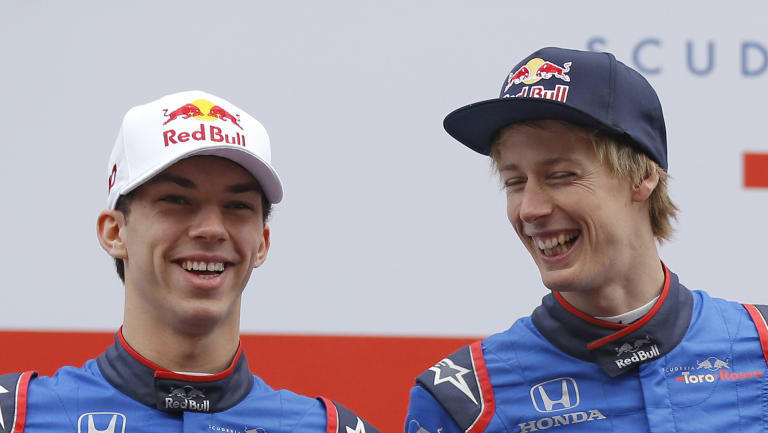 GRID KIDS
The walk-on female models employed to parade before the start and stand by drivers' cars with their race numbers have been phased out.
In their place come the grid kids, aspiring young racers who will get to meet their heroes.
NEW LOGO, LATER STARTS
Formula One introduced a new logo at the end of last year, one of the more visible changes since US-based Liberty Media took over in January 2017.
Race starts will be at 10 minutes past the hour to allow television broadcasters time to air the pre-race show.
Grands Prix in Europe and Brazil will also start an hour later than before.
All practice sessions and qualifying at those European rounds will also start an hour later.
Morning & Afternoon Newsletter
Delivered Mon–Fri.