Mercedes were working deep into the Australian night to analyse their mistake, but Wolff suggested that it had sprung from a computer glitch. "I think we have a software issue with the safety-car data, a situation we haven't had before with a special constellation of cars on track, one going at high speed and the other at slow speed. The gap that we needed was wrongly calculated." Of all the excuses offered for losing a race, this was a novel one.
Formula One truly is its own worst enemy sometimes: on the first day of a fresh season, with the prospect of thrilling racing hanging in the summer air, the post-mortem instead degenerates into boffin-speak about deltas and algorithms.
Delta, to most of the planet, is an airline. Or a Greek letter. Or the sediment at the mouth of a river. In F1, it is the gap in time between two cars. It is also not what Liberty Media, the sport's owner and a company desperate to make it more accessible, wants anybody to be talking about.
At least the fight between two quadruple world champions, the first ever in F1, did fleetingly materialise. But the claim by Mark Webber, who bounced on to the podium to tell Australian fans that they had witnessed a "titanic" tussle, was wide of the mark. Hamilton battled gamely to reel in Vettel over the closing laps but, as so often, the dirty air from the leading car meant that he could not come close enough to pass.
Oh for an Australian Grand Prix that could be decided, unambiguously, on race-craft alone. But the layout of Albert Park, statistically the second most difficult circuit for overtaking after the streets of Monte Carlo, militates against it. Hamilton explained how he would have needed to be lapping 1.8 seconds faster even to have a chance of getting by.
The situation was, frankly, ludicrous. So, too, was that of Hamilton backing off in the final stages to conserve an engine that he needed to last another seven races.
From engines to gearboxes, grid penalties to fuel-saving rules, this is a sport strangled by opaque bureaucracy.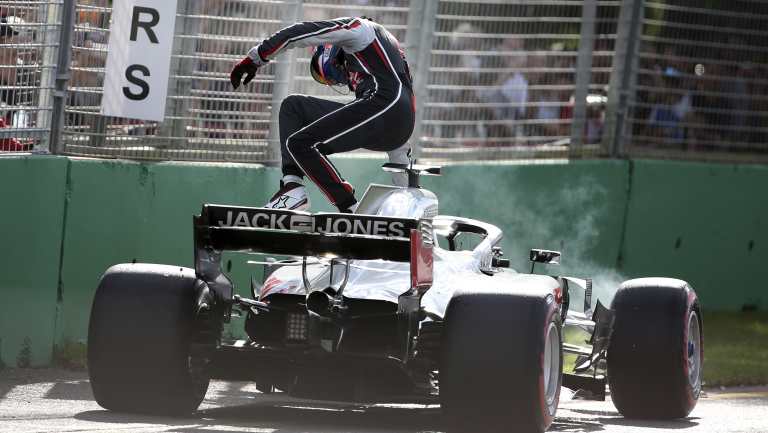 Hamilton was adamant that he had done all he could to recover from Mercedes' strategy nightmare. "I did everything I believed I was supposed to do," he said. "At the last minute, I was told the Ferrari was coming out. It was disbelief from that moment until the end of the race."
Mercedes could console themselves that their misfortune paled against that of Haas. The American team, bankrolled by US billionaire Gene Haas, have been the revelation of 2018 to date, vaulting from midfield anonymity to be podium challengers.
They were shattered, then, when the cars of both Grosjean and Kevin Magnussen, running fourth and fifth, were forced to retire after tyres were replaced incorrectly during pit stops. The anguished, head-in-hands response by team principal Guenther Steiner told its own story. Haas also received a £10,000 fine for two unsafe releases, although this could be dwarfed by the prize money lost from the missed points.
If Vettel was cock-a-hoop about his win, especially after Hamilton had crowed about "wiping the smile off his face" in qualifying, then Fernando Alonso was equally ecstatic about finishing fifth for McLaren.
The Spaniard was at his cussedly brilliant best here, proving the wisdom of McLaren's switch to Renault engines and indicating that the British team could at last be poised for better times. "I'm very proud of you," he told his engineers. "It will be a long season, but maybe now we can fight."
The fight between Mercedes and Ferrari, one senses, is only just starting.
Loading
While Vettel sprayed the champagne at will – much to the displeasure of his third-placed team-mate Raikkonen, who just scowled at him – he understood that he had been fortunate this time. "We are not yet a true match for Mercedes," he said.
"The car has huge potential, but I'm still struggling a little with it. I want it to be spot-on."
For Hamilton, there are few such worries about the machinery, given that he had the better race pace and seized pole position by a staggering seven-tenths of a second. It was just a pity, for him and for Mercedes' reputation for perfection, that the computers did not cooperate.
Telegraph, London
Morning & Afternoon Newsletter
Delivered Mon–Fri.